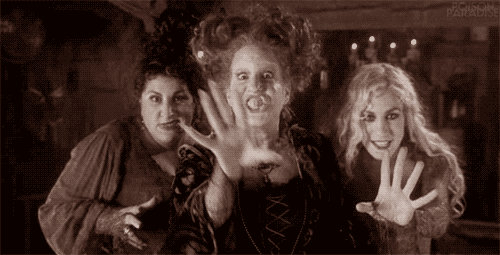 Yes, it's true, the Sanderson sisters are back and…SO ARE WE!
That's right, we're giving you some great news (besides the release of Hocus Pocus 2) on a Friday: Registration is officially open for the Retail Innovation Conference & Expo, which is happening June 13-15, 2023, at McCormick Place in Chicago. And remember, if you're with a retailer or brand, a student or an educator, you can snag a Free Expo Hall pass!
But, of course, we encourage you to see all that the event experience has to offer. After all, we've been workshopping new ideas and networking opportunities ever since we returned from Chicago this past May. And believe me, you will definitely want to see all the ideas we're putting into action for #RICE23. We cannot wait to share all that we have in store (pun intended) with you!
Let's not waste any time and get into the details, shall we?
The Theme
Our theme for #RICE23 is "What's Next in Connected Commerce: See it. Experience it. Create it." What does this mean? Glad you asked!
The Vision
Our goal is to not only create a collaborative space for executives across the retail industry to come together and learn from each other, but also create a space for active learning and discovery.

After you dig into the hottest commerce trends and success stories in one of our three micro-conferences, you can then experience the innovative technologies, commerce models and in-store experiences on the expo floor. That's right: you won't just see what's next in connected commerce…but experience it.
The Content
Our three micro-conferences are back and better than ever! By registering for an All-Access Pass, you can sit in on all three micro-conferences: Retail Innovation Summit, IRCE and Design:Retail. We spoke with a lot of our 2022 attendees and found that the folks who got the most value from the content were the ones who had the freedom to cross over into different tracks. That's why we're offering the opportunity to everyone who has an All-Access Pass. We also found that attendees who brought team members to divide and conquer the sessions had a better overall experience. Explore our group rates and see how you can get different teams and functions involved.

Read on to get a better understanding of the different micro-conferences and their respective tracks, so you can start planning your journey.
IRCE
Take a page from some emerging and disruptive brands to learn how they're rewriting the rules of digital experience across DTC ecommerce sites, marketplaces, social commerce platforms and livestream events

Design:Retail
Hear how brands are embracing new design trends and cutting-edge technologies to drive connected commerce experiences.

RIS
Learn how top brands embed agility, collaboration and innovation into the fabric of their businesses to adapt to new omnichannel realities.
What's New for 2023 
Thanks to our community, we've been able to brainstorm a lot of exciting ideas and adjustments to the event experience. While we certainly have a lot more up our sleeves (with new updates to come), we already have some great new additions in play:

– Live and engaging activations
See, feel and explore new commerce experiences on the show floor. Our Cannabis Pop-Up and the shoppable retail experience from goodMRKT were an amazing addition to the floor experience, so we plan to expand upon these offerings in 2023.

– 16 workshops
90-minute, deep-dive, collaborative sessions on areas such as: Customer Experience, Marketing/Advertising, Culture/Innovation and Store Design/Operations will help kickstart the event experience and get your brain activated with ideas and inspiration. To create a transparent and comfortable experience, workshops will only be open to qualified brands and retailers, limited to 50 attendees per workshop on a first come, first served basis. More details to come!

– More in-depth sessions
45 minutes of quality learning, including Q&A and audience engagement. That's right: Q&A will be embedded into the sessions so you can dig into the topics and issues that matter to you.

– Certifications and career development
Tailored courses focused on CX, cutting-edge tech and innovation practices will help you expand your knowledge set and set yourself up for future success. Stay tuned for updates on the partners we're going to bring into the fold.

– Fresh topics, new voices
Our 2022 attendees loved the diverse brands we had on our speaking faculty and appreciated that a lot of the folks on stage were the ones doing the work. We plan to stay true to this mission by bringing in emerging and fast-growing brands like TRUFF and Bubble that are embracing new consumer behaviors and making their mark amid industry disruption. (NOTE: Stay tuned as we will reveal our keynote speakers in the coming months and trust us when we say, they will not disappoint!)

– More interactivity
Pre-event Q&As, live polling, AI-powered networking and topical community conversations aggregated in an online community will help you get to know your peers before you head to Chicago. That's right: we're bringing "omnichannel experience" to a whole new level.
When should you arrive?
You should plan to arrive by Monday night (June 12) to attend Tuesday (June 13) workshops and the welcome reception. Our last full day of programming and networking is on Thursday (June 15).
Now that we've given you a glimpse into the magic of #RICE23, be sure to take advantage of the prices now before rates go up!